After visiting the fabulous Musee d"Orsay recently and studying the interpretive materials therein I came to a fuller understanding of the history of art in Paris.
From the early 1500's Paris was a hub of fashion, literature and art of all sorts. In the seventeenth century the pace picked up, and naturalism as a movement was born.
Naturalism is a period of art, and a philosophical movement which considered "nature" as being the origins of everything in the universe – rather than God. A rather shocking concept at the time indeed! France was truly scandalized!!!
Naturalist artists created faithful imitations of nature as an expression of reality, not for religious purposes, or uses. Painters began to paint for public profit rather than dispensations from the Church.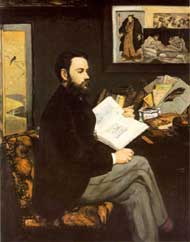 Portrait of Emile Zola by Claude Manet.
Emile Zola burst onto this "naturalist" scene with the publication of 20 novels between the years 1871 and 1893. The books follow the story of one family during the Second French Empire. (The Second French Empire and it's architectural style is named after the reign of Napoleon III's Second Empire in the third quarter of the 19th century.)
Zola established a following of writers who specialized in studying the social plagues of mankind. On February 7, 1898, the writer Emile Zola ended up being summoned to stand trial in the Palais de Justice in Paris. He was sued for libel, following his "Open Letter to the [French] President of the Republic", published one month earlier in the newspaper "L'Aurore." – In his article, Zola had openly accused high officials, military staffers and handwriting experts of meddling with the truth about the 1894 conviction of a certain Captain Dreyfus, after a shady spying case held in a controversial court-martial.
Ironically, and quite French indeed, was the ultimate outcome in spite of his conviction – huge popularity for Zola and his writings; and "naturalism" as a style was adopted as the "official" art form of the Third French Republic. The Third Republic in France began in 1871, with the final end of monarchy in France. Industrial expansion continued during this time, and art flourished in Paris as always.
Examples of these later social naturalists are Georges Hendrix Breitner with his 1898 painting "Two White Horses Hauling Logs in Amsterdam"; Jules Dalou's "Blacksmith" and Lionel Walden's "The Docks of Cardiff." Below is Gustave Callebotte's classic "The Planers," showing everyday workers at their tasks.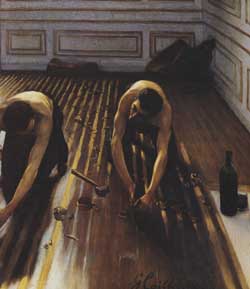 Other, earlier naturalists who painted strictly nature scenes were Jules Bastien-Lepage "Haymaking" and Leon Lhermitte "Paying the Harvesters."
Symbolism emerged alongside the later Naturalists, and is not considered a clearly defined stylistic movement, but as a tendency.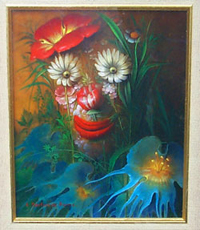 Classic symbolism on display on Rue Lepic in Paris.
Most popular during the latter nineteenth century, it also emerged from literary roots through poetry then visual arts. Munch, Klimt, Ibsen and Strinberg were all considered symbolist painters, along with the Belgian James Ensor. Odilon Redon's "Closed Eyes" (1890) is a perfect example of symbolism.
Art Noveau boomed out of the late ninteenth century as a rection to the "sclerosis" into which architecture had fallen in Paris.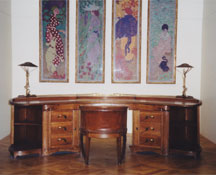 Classic art nouveau desk and wall hangings on display in the Musee d'Orsay.
Not just Paris, but pan-European in general saw the emergence of skilled artisans and cabinet makers actually responding to the desires of their clients and designing a more modern style, for modern life in the modern Europe of the time. The rules of Art Nouveau were but two – shake off the past and respect of the materials from which art is made.
Some excellent examples of Art Noveau furniture are on display at the Musee d'Orsay – from Hector Guimard's Smoking Room Sofa (1897) to Henry van de Velde's Desk (1898-1900). Of course there were many Art Nouveau geniuses in Paris, Rene Lalique, A. Charpentier, Emile Galle and Louis Majorelle to name a few.
Art Nouveau varied from country to country in Europe and severe geometric designs were common in the UK and Austria, while tortuous fantasies based on plant growths became all the rage in Belgium and France.
Many other periods and styles of art can be discovered at the Musee d'Orsay, but I had only one day to visit the sprawling building. Be sure to get there early, and enjoy some time wandering slowly and absorbing the knowledge, wisdom and art of the masters.
By Martin Trip Copyright 2002 Hip, Inc.