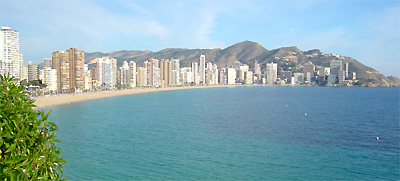 The town of Benidorm, located on the Costa Blanca in Spain, is not a sleepy fishing port, with hammocks swaying in the sun by a beach. Well, there may be some hammocks swaying by the beach, but the 'town' of Benidorm boasts some of Spain's tallest hi-rise buildings.
 Located 45 kilometers northeast of Alicante, it's a convenient and inexpensive place to fly into from just about anywhere in Europe. Benidorm is known for it's white sand beaches and nightlife, albeit Las Vegas-style.
 Less expensive than other sun-drenched parts of Spain's coast, Benidorm attracts budget travelers from all over the world, but mainly from Northern and now Eastern Europe. Package tours that include self-catering in small apartments are standard for most travelers here. The town boasts 35,000 beds in hotels and over 200,000 apartments, so it shouldn't be difficult to find a place.
 In recent years Benidorm has been overbuilt to the point where there are now plans to start tearing down some of the older, funkier buildings, which will doubtlessly be replaced with new, even taller tower blocks.
 A stroll down the Levante beach is enjoyable, with people watching the main activity. And then there are the amazing tourist attractions lining the beautiful promenade that actually makes Benidorm a special place. Located at the southern end of the Levante beach is a promontory with a fine little public park on the end of it. There's an outstanding vista of the broad, miles-long beaches (north and south) from the park. The cafe here offers a great cappucino, or colder beverage in the warmth of the summer sun.
 More than 1000 restaurants, and 30 or more discos can be found in Benidorm. There are many bars, cafes, cafeterias, gaming palaces, and trinket shops galore to be found here as well. And in the surrounding streets leading to the beach there are many more shops, if nothing strikes your fancy.
 Benidorm attacts families with lots of options for kids including the nearby Terra Mitica, Mundomar and Aqualandia theme parks, and the shopping malls of Finestraat.
 To get to Benidorm you can fly into Alicante, rent a car and drive here. Or take the new bus! And there is a train as well that runs from Alicante thru Benidorm north to the town of Denia, which is also an excellent day trip from Benidorm.