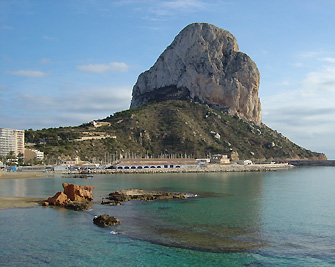 Piñon de Ifach and Calpe's Port
Located between Valencia to the north, and Alicante to the south, the town of Calpe is dominated by the 332-meter tall "Piñon de Ifach," or the rock of Ifach. The rock itself juts out into the sea as imposingly as does the Rock of Gibraltar, and is a beautiful protected mountain wilderness area and park with several spectacular hiking trails and excellent rock-climbing.
Sometimes called the Penyal d'Ifac, this rock supposedly forms a triangle with the other big rock on the Iberian Peninsula, the Rock of Gibraltar and with a point in what is now Tunisia on the other side of the Mediterannean. This is where an ancient king ruled a sea-faring nation of early explorers. They used these points as navigational aids in their journeys. According to some, the name Ifach, or I'fac, descends from the name of this Tunisian king.
The huge rock is formed from Eocene and Mycene period calcareous material, joined to the mainland by a detritic isthmus. Here can be found over 400 species of native plants, 80 types of nesting birds, and numerous reptile and insect populations of note.
There's a nice Visitor Center in the park with interesting displays about the park's flora and fauna. Unfortunately all the text is in Spanish. Just below the Visitor Center there's a dirt parking lot where the trail up the rock begins. The path climbs along the southwest face of the rock offering excellent views above Calpe's port, the city & bay.
At the Visitor Center there is a nice picnic area for those not wanting to climb the almost 332 meter (1089 feet) high rock itself. If you are more adventurous bring good hiking shoes, and plenty of water to hike up the trail. Don't forget your camera! About two-thirds of the way up, there is a hand-carved tunnel made in 1918. This leads to the eastern side, and the more interesting part of the rock itself.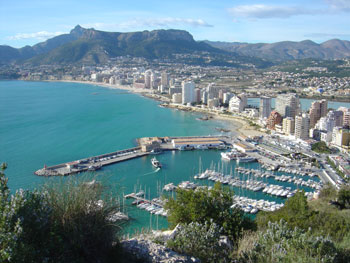 View of Calpe from Piñon de Ifach
Up on top there are several branching trails. One leads to the summit, with breathtaking views, and another to a former civil guard post. One could spend days exploring this interesting formation.