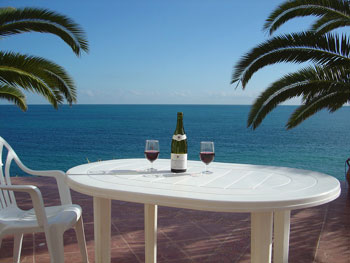 If you'd like to visit Spain, but don't want to stay in hotels or apartments, you should consider renting a villa. If you're going to stay in one place for a week or more, we highly recommend Spanish villas because they provide a more unique experience and can usually save you a lot of money, especially in the off-season. It's also a good idea if you're looking to buy property in Spain to rent a villa in the area you're considering first, to see what it would be like living there.
Most rental villas are located along the beautiful Spanish coast, and usually have stunning seaviews, a swimming pool, lots more room than apartments, and normally can accommodate six or more persons. While there are some older style villas available, more and more villas are relatively new or have been recently remodeled. This means a modern kitchen with a big refrigerator, and sometimes a dishwasher. All villas have a washing machine, but few have dryers as drying your clothes outdoors is one Spanish tradition that's hard to change.
It's possible to rent a villa by the week, and even by the month, especially off-season. In fact we recommend the off-season (from October thru March) as the weather is still nice, the beaches are almost empty, and the best deals on villas are available. Expect to pay 150-450 Euros a night for a 2-5 bedroom villa in peak season (July & August). Those same villas in the off-season can range from 100-150 Euros a night. But the real deals are the monthly rentals. If a villa has no upcoming bookings, you could rent it by the month for 1000 to 2000 Euros.
Of course location is a factor in price, and frontline villas on the sea will be much pricier than those back in the hills, or with mountain views only. There is some variation according to which Costa you're looking at, but that is a minor difference.
Another consideration to take into account is whether you'll need to rent a car during your stay. Most villas are not convenient to town or public transport, so you must factor in the price of car rental too. Expect to pay 130-200 Euros a week for an economy rental. In the off-season you can get a slight break on the price, especially for a month, but not all rental agencies offer such deals. Do shop around!
Lack of telephone and Internet access are major drawbacks if you're planning a long-term villa stay in Spain. Vacation rentals don't usually have a phone line since they can easily be abused and since everyone in Spain has mobile phones. Internet access is extremely rare, but if your villa has an operating phone line, it is possible to get ADSL setup, but be prepared to wait as long as a month for it to be turned on. If you have a GMS mobile phone, you can usually replace your chip with a Spanish chip and get a Spanish phone # in minutes, so a land phone line is not necessary. You should get a discount phone card to use with either your mobile or land lines because you can make calls abroad much cheaper, just a few cents a minute to the UK or USA.
There are hundreds of rental agencies and websites where you can rent villas in Spain. However we suggest you first rent a place for a few days or a week, before making a longer term commitment. There's nothing like seeing a place in person to know if it's right for you. There always seem to be some surprises in store when you book a villa without seeing it firsthand.
Here's some of the "surprises" we've encountered:
1. Construction. It's everywhere in Spain, and if your villa is near a construction site be prepared to experience noise, dust, diesel fumes, workmen coming and going, short delays driving in and out, not to mention unsightly construction zones.
2. House problems. Older homes in Spain have lots of problems with the structure itself, old funky appliances, mold & mildew, weird smells, etc. New homes have problems too. We rented a brand new house, but encountered problems with uncompleted work like no working bell at the gate (missed people coming by), improperly sealed bathrooms that caused mold & an awful sewage smell that caused us to leave early.
3. Smoke. In Spain they allow open burning in agricultural areas, which always seem to adjoin residential areas. So certain times of the year smoke can build up and hang around for days. In addition during the winter, wood burning is a common way to heat houses, so you can expect wood smoke to surround you at night. There seems to be no way to avoid all this smoke, but if you stay away from agricultural areas or get close to the sea, you can minimize it.
The good news is that Spain is finally going to implement no-smoking laws in 2006, that will restrict smoking in workplaces and require non-smoking sections in restaurants, so at least that kind of smoke will be less prevalent. Update:Spain has just announced it plans to reduce carbon dioxide emissions dramatically in an effort to fight greenhouse gases, so this should make a big difference to air quality in Spain. Bravo, España!
If you're going to visit the Costa Blanca area (Alicante, Benidorm, Calpe, Moraira), we highly recommend Villas Guzman rental agency. They've proven to be reliable, with a good selection of villas, many on the seafront, very good prices and excellent service. Visit their website at villasguzman.com or call them at (00 34) 96 649 70 16
Fax: (00 34) 96 649 87 07
Dirección Postal: Ctra. Calpe-Benissa, Km 3'5. Urb. La Fustera 3-P. E-03270 Benissa-Alicante-España.
e-mail: info@villasguzman.com