Ko Samui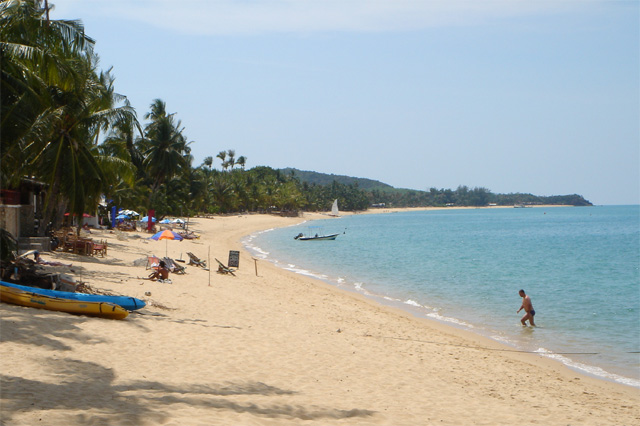 Laid Back Mae Nam Beach
Once upon a time, Koh Samui was known only to adventurous backpackers who would spend days taking long bus rides and a long ferry ride to arrive on this tropical island paradise. They would shack up in a primitive bungalow on the beach for weeks at a time, blissed out on the sun, sea, sand and tranquility of this remote island.
Then lo and behold, they decided to build an international airport on Koh Samui. Next thing you know, hordes of well-heeled tourists arrived, staying at the new air conditioned, five-star resorts which popped up between the cheap bungalows.
The once quiet road circling the island now groaned with the ever increasing numbers of tour buses, taxis and construction traffic. New businesses opened along this road and what was once a sleeply island transformed into a booming tourist resort.
Today Koh Samui still accomodates those backpackers, many of whom are just passing through to the more laid back islands of Phangan and Tao. And for those affluent baby boomers, luxury resorts everywhere provide the level of accomodation and service they seek.
Yes, the beautiful, palm fringed beaches are more crowded, like the roads, but fortunately Koh Samui is still a taste of paradise. On the plus side, there's a fantastic airport, which won design awards, making the island much more accessible. A full range of bungalows and resorts mean that you can find just what you need. The impeccable Thai cuisine is now complimented by a gamut of international restaurants serving up everything you can imagine.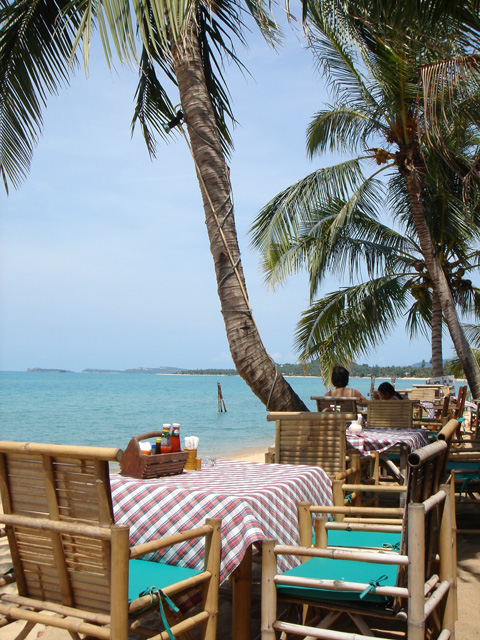 Alfresco Dining on Samui
No visit to Koh Samui would be complete without visiting a spa where you can be pampered to your heart's delight. The full range of massage, along with various healing therapies are practiced on Samui.
You might not be able to stay for less than $5 a day, like before, but you will still find good value on Samui. If you still yearn for a more youthful experience, you can catch the ferry to Koh Phangan (home of the full-moon parties), or go diving on Koh Tao.
The main tourist areas on Samui are Chaweng and Lamai. Mae Nam and Bophut on the north coast are much quieter and laid back. All have beautiful beaches, with Chaweng being the most developed with a lot of nightlife.
Koh Samui was unaffected by the big Tsunami that hit the west coast of Thailand. The overall drop in visitors to Thailand was compensated by a redirection of tourists from the affected areas to Koh Samui.
Getting Around
You can rent a car, motorbike, bicycle or take a taxi or Songthaew (red pickup truck) to get around the island. Both Avis and Budget offer airconditioned cars at reasonable rates, while motorbikes and bicycles can be rented very cheaply. Beware that the roads are crowded and chaotic, and Samui has the highest fatality rate in Thailand. So motorbikes and bicycles are the most vunerable in accidents. They drive on the left in Thailand, so if you're not used to that, you might to leave the driving to someone else.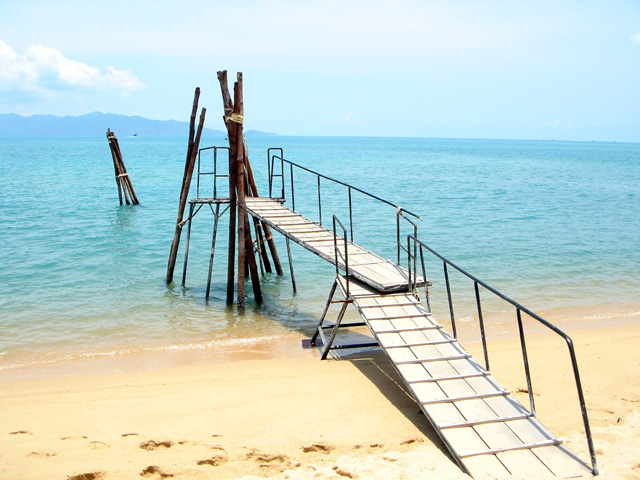 Mae Nam Ferry Pier – Boats to Koh Phangan and Koh Tao leave from here
Ferries
There are ferries from various points on the mainland, and inexpensive ferries from Samui to Koh Phangan, Koh Tao and the Ang Thong National Marine Park.