Thai Cuisine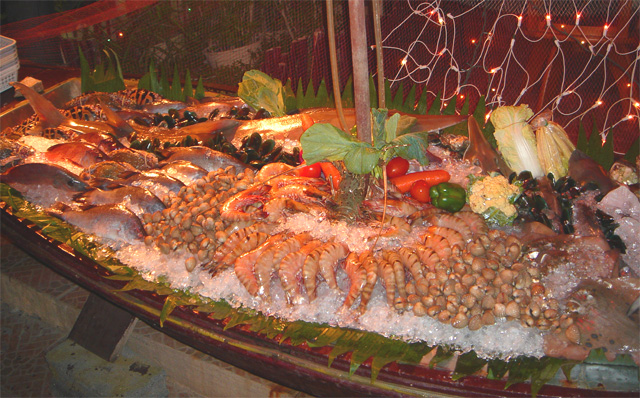 Fresh Seafood at Thai Restaurant
A meal in Thailand is a wonderful experience that awakens the senses and surprises the palate. Thai cuisine evokes the heat and exotic spices of Asia fused in colorful displays of culinary talent. Red hot curries drown in rich creamy coconut milk. Shrimp and squid swim alongside tasty vegetables in mouthwatering pots of broth brimming with the tropical flavors of lemongrass, ginger and lime leaf.
Kebabs of chicken or meat long marinated waiting to be dipped into the sweet heat of piquant peanut sauce. Fresh fish, prawns, lobsters, clams, mussels and more are temptingly displayed outside open restaurants awaiting your selection and preparation instructions.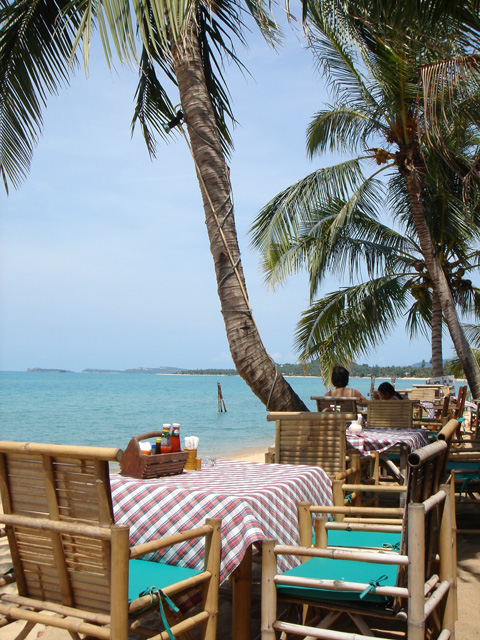 Seaside dining, Koh Samui
Whether you like your fish steamed, barbecued or fried, sweet and sour or spicy, it's your choice, and you won't be disappointed. Our recommendations include Squid Glass Noodle Salad, Tom Yum Kung, Pad Thai, Fried Fish with Chili sauce, Satay, Green Curry and Prawn Penang.
On my recent trip to Thailand I never ran across a bad prawn or clam, and that was eating some almost every day and night. The Thai also cook excellent Chinese food, and western food including pizza, pasta and many continental dishes are usually well executed.
Many Thai dishes aren't spicy at all, but many can be mind blowing hot. Always let your waiter know how spicy you like your food. If you're not a big chili eater, go easy at first. You will acclimate to more spice, the more you eat. For those who like it hot, be sure to ask for spicy, extra spicy or Thai spicy. But beware, thai people add a lot of chilis to their own dishes.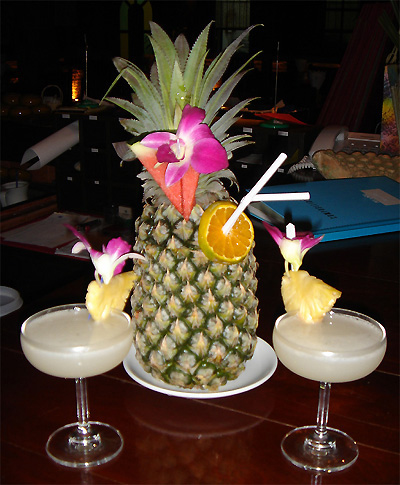 Thai Mai Tai and Margaritas
Many Thai restaurants don't have bars, so your drinking options may sometimes be limited. All restaurants will have Thai beer, usually Singha or Chang, both good, and usually a house wine, but don't expect much. Those with bars can offer you the usual range of exotic mixed cocktails, and a bit more of a wine selection. Top class restaurants will have an extensive wine cellar. However some may find wine to be out of place, not just because of the clash between the rich spices and the wine, but also because the prevailing temperature in Thailand makes drinking wine a bit less enjoyable, especially compared to the cooling qualities of a cold beer. Also the price of wine compared to beer will have you choosing the latter quite often.
Fortunately you also have a range of non-alcoholic beverages available that include delicious fruit juices, shakes, smoothies, sodas and the ubiquitious bottled water, which we recommend with every meal.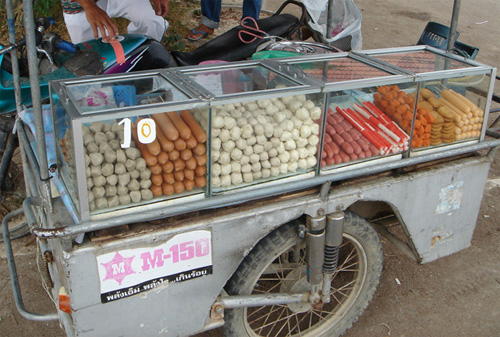 Street Vendor
Eating out in Thailand is an incredibly rich & tasty experience, but you needn't be rich to explore the full range of eating options. Food can be purchased cheaply from roadside vendor stalls, but don't expect the best hygiene there. For just a bit more you can eat in an open air restaurant that might not look like much, and might be missing the fancy garnishes of elegantly cut vegetables and orchids, but the food can be as good as anywhere else. A typical restaurant meal including beer shouldn't cost much more than 300 bhat (US$8). But for the splurge you can go all the way to the world class restaurant with stupendous views and European quality wine cellar and you'll still be smiling when you see how reasonable the bill is compared to just about anywhere else.