Koh Phangan
When I visited Thailand 22 years ago I stayed in Ko Samui and from my funky bungalow I could see Koh Phangan dominating the vista out in the Gulf of Thailand. Back then few people visited Ko Phangan probably because they still didn't have electricity and there were only about half a dozen small, even funkier bungalow resorts around the island.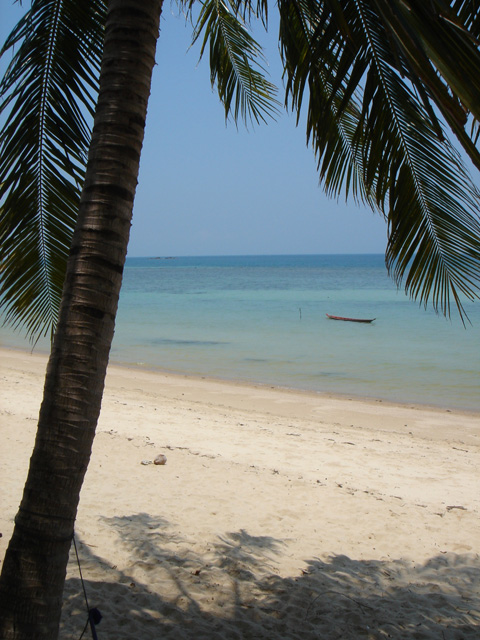 Tranquility is easy to find on Koh Phangan
Unable to find a good reason to visit 22 years ago, as Ko Samui was about as funky as one needed, I never took the boat over to Ko Phangan. But now it's a major destination for the backpacker set, thanks to the famous Full Moon parties that take place in Haad Rin.
Visit Koh Phangan soon, before it all looks like Haad Rin
Today, Koh Phangan is set to explode with new development thanks to the arrival of immigrants from Phuket and Bangkok, looking for the next tourist hot spot. After the Tsunami, many businessmen are reluctant to rebuild along the Andaman Sea. So now property values on Koh Phangan are skyrocketing.
If you want to experience Koh Phangan before it turns into another Koh Samui, you should visit soon. It's still a laid back, inexpensive, beautiful experience. You won't find the big resorts here with rows of umbrellas dominating the best beaches. Instead funky bungalows abound, with just a few first class resorts here and there, but that's bound to change.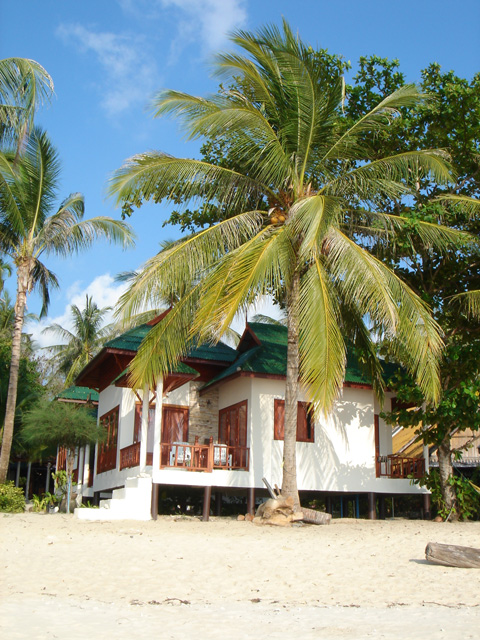 New Beachfront Bungalow
You can still get a beachfront bungalow for around US$20, add another $10 for a new airconditioned one. If you don't mind being a few meters back from the beach, fan bungalows can still be had for as little as 250 bhat a nite, about US$6.
Outside of the main port of Tongsala and Haad Rin there are no real towns on Phangan, just a few convenience stores, massage & Internet businesses spread around the bungalow resorts.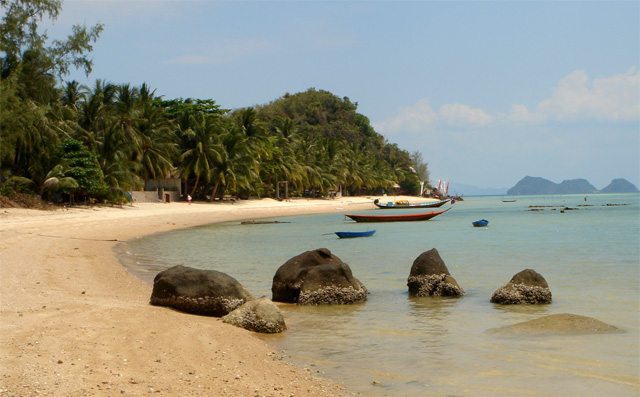 Chao Phao Beach
Phangan has some beautiful beaches and nice coral for snorkeling and diving, especially in the north. If you're looking for peace and quiet, it's easy to find on Phangan. Haad Rin in the south is very developed and crowded and not recommended for a quiet, relaxing experience.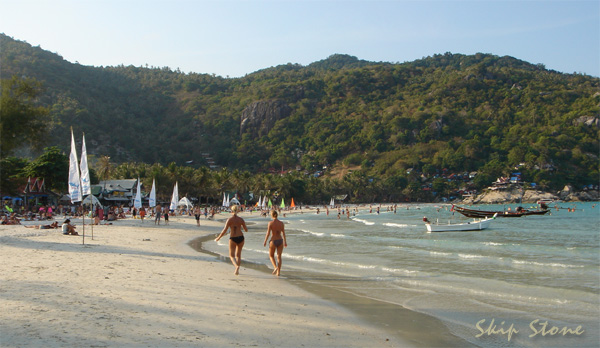 Haad Rin Beach just before Full-Moon Party
Of course the full-moon party brings out the big crowds, sometimes up to 10,000 to Haad Rin, on the south end of the island. Here a half dozen stages are setup on the sunrise beach, and the party begins at sunset and goes on until way past sunrise. The Thai people do their best to host this party with dozens of impromptu food and drink stalls setup on the beach and nearby streets.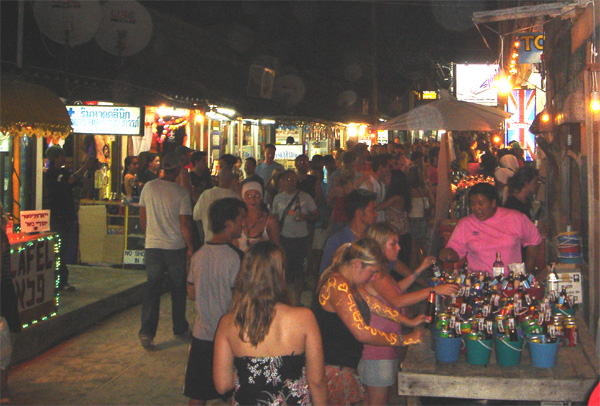 Full Moon Party, Haad Rin
There are wonderful bars in cool locations around the island. Besides the big full-moon party, many bars put on parties at other times of the month, like the half-moon party, moon-set party, and others. I recommend the Pirates Bar, with it's own secret cove and the Amsterdam Bar, on a hill for super sunset views.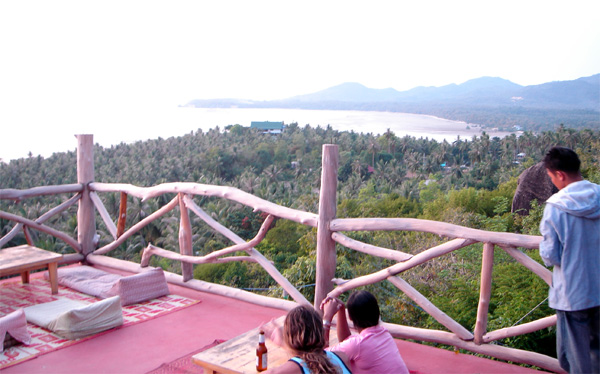 View from the Amsterdam Bar
In the off season these parties can be pretty slow, but you didn't come all the Koh Phangan just to party did you? There's more to do than party alright. There are some nice roads and trails through the jungle that lead to waterfalls or scenic views. You can explore the less developed east coast, which has some beautiful beaches with refreshingly deep cool water. You can learn to scuba dive here, supposedly the cheapest place on the planet to get certified (around US$160), and the diving is superb! Nearby Koh Tao is another island to explore on a day trip, or overnight.
It's now a lot easier to get to Koh Phangan thanks to the Ko Samui International Airport and the numerous ferries from Samui and the mainland.