Unfortunately it appears this restaurant is no longer in business…. 🙁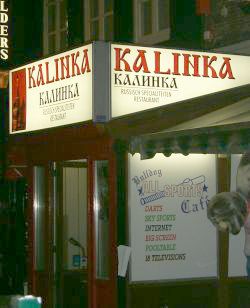 As we wandered around the Leidseplein, my friends from Spain were looking for something different to eat. So when they suggested we look into this Russian restaurant, I was psyched to try anything. And given the new American/Russian amity as evidenced by the Bush/Putin lovefest, it seemed like it was time to see what the Russians have to offer on the culinary scene these days. The menu looked way more inviting than a Texas barbecue, that's for sure!
The once decadent, and now charming Czarist decor is inviting, with attractive pinstripe wallpaper and turn of the century lamps. It's the kind of place, a few years ago, where you'd expect the Russian couple at the next table to be KGB agents discussing spy secrets. Of course today it would be the same couple, now with the Russian Mafia, talking about business secrets.
We started off with some Russian beers in half liter bottles, that were very hearty and full of flavor. Some of our appetizers were superb. The chicken soup in a creamy saffron base was outstanding! I ordered the fried potato shoes stuffed with mushrooms and cheese, served with a wonderfully rich cream sauce. Those two appetizers along with the constantly refilling bread basket could make a meal right there. But the fish soup didn't measure up.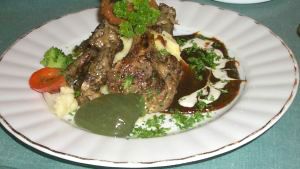 Lamb Tiblisi
After our second round of beers, the main course arrived. My friends had the Lamb Tiblisi and said it was excellent. I ordered the Chicken Kiev, which I figured would be a safe bet, but unfortunately it was the loser of the evening as it was dry and tough. It certainly didn't have the freshness of the other dishes.
By the time we were on our third round of beers, the musical portion of the evening's entertainment had arrived. A Russian duo consisting of male keyboardist and a very sexy platinum blond diva serenaded us with tunes like Besame (which of course my Spanish friends loved!), and other 80s hits. They were actually pretty good!
The bill came to 300 guilders for four, (no dessert) and considering that we each had appetizers and over a liter of beer, I'd say the prices were quite reasonable.
Korte Leidsedwarstraat 49a
Amsterdam 1017
Phone: 020