Amsterdam
Xaveria Hollander is still active, and operates Xaviera's Bed and Breakfast in Amsterdam, the Netherlands. The author of "The Happy Hooker" will be glad to have you stay at her "Happy Hotel."
Please follow and like us: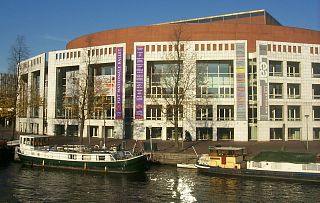 The Muziektheater (the Nationale Opera & Ballet) hosts major productions of opera, theater and ballet. Look for Shakespeare, classical operas, wonderful ballets like the Nutcracker.
Please follow and like us:
Unfortunately it appears this restaurant is no longer in business…. 🙁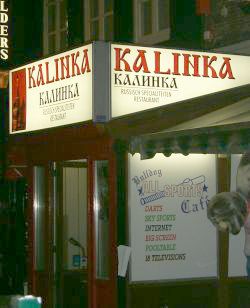 As we wandered around the Leidseplein, my friends from Spain were looking for something different to eat. So when they suggested we look into this Russian restaurant, I was psyched to try anything. And given the new American/Russian amity as evidenced by the Bush/Putin lovefest, it seemed like it was time to see what the Russians have to offer on the culinary scene these days. The menu looked way more inviting than a Texas barbecue, that's for sure!
The once decadent, and now charming Czarist decor is inviting, with… Continue reading →
I had a chance to pop in here during the Cannabis Cup. Usually when I spot a pool table in a coffeeshop, I turn around and head elsewhere, but at The Rookies, it's more of an after thought, rather than the primary focus of activity.
I think The Rookies works because it's got a more open feel than most narrow, cramped coffeeshops. You can sit most anywhere in the room and observe everything going on. I chose to sit by the pool table, which turned out to be unwise as I was getting a lot of ass in my face… Continue reading →
I've been to Amsterdam twice in the last 3 years. Tried many coffeeshops around the city. This my favorite coffeeshop by far. Not because of the quality weed, but because of the nice people working there. The weed was good also, but not the absolute best in the city. It has a laid-back atmosphere with good music and great hot chocolate. Free use of the bongs, which they will clean right before you use it. Backgammon and chess games available. More of an upscale interior with nice woodwork and brass finishes. Located at the edge of the Red light district… Continue reading →