Closed
Unfortunately it appears this restaurant is no longer in business…. 🙁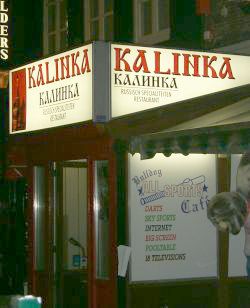 As we wandered around the Leidseplein, my friends from Spain were looking for something different to eat. So when they suggested we look into this Russian restaurant, I was psyched to try anything. And given the new American/Russian amity as evidenced by the Bush/Putin lovefest, it seemed like it was time to see what the Russians have to offer on the culinary scene these days. The menu looked way more inviting than a Texas barbecue, that's for sure!
The once decadent, and now charming Czarist decor is inviting, with… Continue reading →
Once a Gay leather bar and disco. This place was for the really brave… very INTERESTING list of events on their website.
Now Permanently closed.
Warmoesstraat 32
Amsterdam 1012
Phone: 020-624-5573
On the Warmoesstraat for the gay and bizarre…Permanently closed for some time now.
Warmoesstraat 95
Amsterdam
Phone: 020-622-6595
Now permanently closed.
Formerly the Time, just the name is changed. Closed Mondays, Reggae night is Tuesday, Wednesday's Fusion, numerous DJ's keep the scene always interesting at this long-time Amsterdam favourite. What a convenient location, right there in the middle of it all! Have a groovy Time, or Item, or whatever.
Niuewezijdes Voorburgwal 163/5
Amsterdam
Phone: