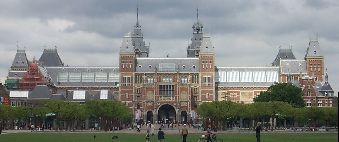 The Rijksmuseum Amsterdam, is home to a large collection of art and history of the Netherlands. The museum has an famed collection of paintings from the seventeenth-century Dutch Republic, the Golden Age, works by Rembrandt, Vermeer and other paintings such as Frans Hals and Jan Steen. At the very heart of the museum is Rembrandt's "Night Watch".
The Rijksmuseum houses more than just paintings: there are collections of silver, delftware, doll's houses, prints, drawings, Asiatic art and Dutch history. Art on paper, prints and drawings, and the photographic collection, are shown four times a year in different exhibitions.
The Rijksmuseum is at one end of the Museumplein which is also bordered by the Van Gogh museum, the Stedlijk museum and the Concertgebouw. The Museumplein is a good place to take a break on a nice day. It's especially refreshing if you're attempting to do more than one museum in a day.
Info:
Open daily from 10 am to 5 pm. Closed on January 1.
Admission is 8.50 euros for adults.
Address:
Stadhouderskade 42
Amsterdam 1071 ZD
Phone: 020-674-7047