Basjoe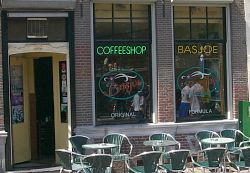 I always passed this place by on my way to other coffeeshops, and it took my good friend Lee Bridges, the Cannabis Poet to steer me in one day, as this is one of his favorite haunts.
James the proprietor and barman and dealer is the cool dude with a long ponytail made from dreads (one of the longest I've ever seen). Last time I was in he had me cracking up with his funny comments.
The shop has three outside tables that fill up fast on nice days. You can't beat the view at the intersection of two canals, with the Zuiderkerk clock tower looming above (one of my favorite views).
Inside the walls are full of posters for upcoming events so it's a good place to come to find out what's going on in town.
Basjoe's get's high marks for service because they have a different attitude towards their customers than most coffeeshops. The staff is friendly, the smoothies are excellent and they even have table service. Now that's cool!
If you want a good deal on hash, from a friendly & funny dealer, visit Basjoe's on the Kloveniersburgwal.
Tip: The Himalayan black hash is some of the best in town. It's soft, smooth and almost out-of-body. James always has excellent weed, which he says is now all organic! He has some really sweet stuff going down. Try the Special Haze or just ask James what's good today.
This place has become much more popular lately (I wonder why?). Good goin' James Leonardo! If you visit say hi from the HipTravelGuide, and they'll treat you right!