Coffeeshops
I've been to Amsterdam twice in the last 3 years. Tried many coffeeshops around the city. This my favorite coffeeshop by far. Not because of the quality weed, but because of the nice people working there. The weed was good also, but not the absolute best in the city. It has a laid-back atmosphere with good music and great hot chocolate. Free use of the bongs, which they will clean right before you use it. Backgammon and chess games available. More of an upscale interior with nice woodwork and brass finishes. Located at the edge of the Red light district… Continue reading →
I had a chance to pop in here during the Cannabis Cup. Usually when I spot a pool table in a coffeeshop, I turn around and head elsewhere, but at The Rookies, it's more of an after thought, rather than the primary focus of activity.
I think The Rookies works because it's got a more open feel than most narrow, cramped coffeeshops. You can sit most anywhere in the room and observe everything going on. I chose to sit by the pool table, which turned out to be unwise as I was getting a lot of ass in my face… Continue reading →
Now permanently closed by the City of Amsterdam, all three locations are gone. This review is for historical purposes only.
I tried to visit the Rokerij during the 2002 Cannabis Cup, and found it next to impossible to find a seat. This place is very popular, thanks to the dj spinning cool tunes, really good smoke and a nice large room in the back to chill and be seen by the hip set.
The crowd during the cup seemed to be an interesting blend of Americans, other foreigners and Dutch locals. If I could've found a seat perhaps I could… Continue reading →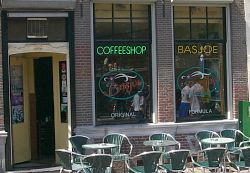 I always passed this place by on my way to other coffeeshops, and it took my good friend Lee Bridges, the Cannabis Poet to steer me in one day, as this is one of his favorite haunts.
James the proprietor and barman and dealer is the cool dude with a long ponytail made from dreads (one of the longest I've ever seen). Last time I was in he had me cracking up with his funny comments.
The shop has three outside tables that fill up fast on nice days. You can't beat the view at the intersection of two canals,… Continue reading →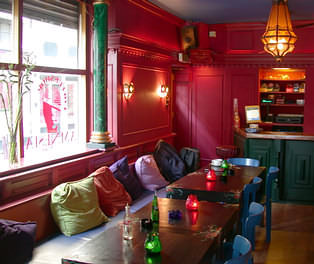 This is a very pleasant Coffeeshop on the Herengracht with outdoor seating. It's one of the few places in town that specializes in organically grown weed. I enjoyed the comfortable interior with nice cushions and pillows, hand painted tables by Zoe, and mellow music that set the mood.
Update: I visited the Amnesia again for one of their Vaporizer Parties. It was packed full of happy people toking up the clean vapors from two vaporizers kept going thanks to the Amnesia and the hard-working, knowledgeable folks from the Cannabis College.