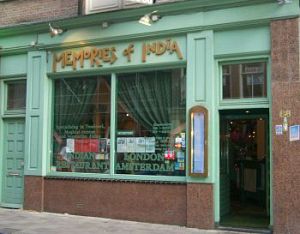 After spending an afternoon exploring Amsterdam we decided to find someplace nice to eat. Something different.
Strolling down the Reguliersdwaarstraat from the Rembrandplein, we came across the stylishly modern Memories of India, which I gather is a chain from Great Britain. The menu outside offered a tempting array of traditional Indian specialties, and a few Balti curries. Deciding to eat here was definitely not a mistake, and everything from the appetizer to the main course was presented to us by our smilingly efficient Indian waiter.
Our appetizer of fried fish with a spicy dipping sauce was quite tasty. Despite the many tiny bones we enjoyed the crispiness. A small salad was also served along with the appetizer.
For entrees we chose Prawns Bhuna and Chicken Korma. The Korma was made with chunks of chicken in a sauce consisting of cream, ground nuts, butter, herbs and spices. It was so rich and thick that it was seductively addictive. Prawns Bhuna proved to be the perfect counterpoint, with large shrimps simmered in a hotly spiced stew of tomatoes, onions, herbs and spices. The garlic naan we ordered worked quite well at sopping up all the amazing sauces that came with our meal.
Lingering over dinner was really enjoyable, with a fresh breeze coming through the open front door to carry away cigarette smoke. The restaurant has a patio dining area in the back, and the whole place is decorated in a very modern style, (hardly discernable as Indian) with large modern art canvases, and Roman-style columns topped with metal-work palm trees scattered about. There are a few stone carvings of elephants and other Indian motifs on the walls to help remind you that yes, indeed, you are in an Indian restaurant. As if you will need a reminder after eating the food!
Memories of India is a nice place, with great food at a reasonable price – our entire meal with drinks was under 100 guilders. Most enjoyable indeed!