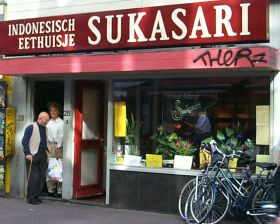 If you're looking for a nice, quiet place to hangout for a while right off the Dam Square that won't set you back a lot of guilders, visit Sukasari.
Located in the very first block heading east from the Dam Monument, Sukasari is on the right side of the street just past the Old Man Headshop. The place is nicely decorated, Indonesian style, and was an oasis for lunch on one of Amsterdam's hottest summer days. The spinning ceiling fans kept us quite cool as we relaxed over a lengthy business lunch. A steady supply of kleine biertjes chilled us even further.
The food is traditional Indonesian, not hot and spicy like Thai food. The menu is extensive, and they offer daily lunch specials if you don't have a clue as to what to order…
The appetizers range from the standard shrimp-flavored kropek crispies to soups (meatball, chicken, chicken-corn or vegetable) and loempias. They offer a variety of sate's (chicken on skewers) with the usual peanut sauces, and traditional bami (noodle) and nasi (rice) dishes. (Prices range from f5.25 for an appetizer to f22.50 for the most expensive item on the menu.)
Sukasari will also make up a Rijstafel with a variety of eleven Indonesian dishes for you to sample. (Priced at f45 per person.)
Being reasonably priced is the main attraction here, with a lunch special geared to the wallets of travelers who want a quiet oasis near the Dam Square. Be sure to ask for some hot chili sauce for your dishes to spice things up!
Sukasari is open from noon until 11:30 in the evenings Tuesdays thru Saturdays. On Mondays they are open from 4:30 pm until 11:30 pm. Closed Sundays.