Sensi Seeds Cornershop
The Sensi is one of my favourite meeting points in Amsterdam with nice drinks, a chill space inside, and tables and chairs on the sidewalk outside in summertime.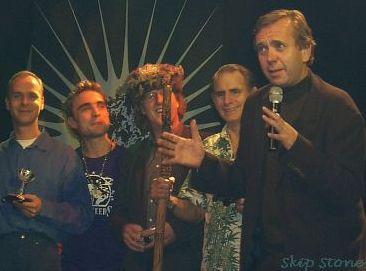 Owned by Ben Dronker (above) and the Sensi Seed Bank, they also run the Hash Hemp Marijuana Museum just steps away down the canal.
While they don't actually sell grass or hash, you're welcome to buy a drink (teas, coffee, soda, beer) and have a smoke of your own stuff while enjoying your stay. Good music, most of the time (it's up to the staff). You can also find great cannabis books, the legendary Sensi seeds and various pipes here.

Good place to meet your friends for those long conversations. All sorts of famous folks like the Cannabis Poet love to frequent this groovy place. You never know who'll show up.
Right on one of the most INTERESTING corners in the Dam, on the Oude Hoog Straat, just two blocks from the Dam Square in the heart of the Red Light District. On the corner of the Oudezijdes Achterburgwal. You can't miss it. Look for the Cannabis plants in the window.
Please follow and like us:
Comments about Sensi Seeds Cornershop