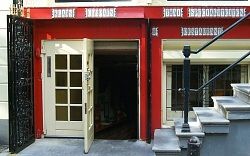 I must admit I'd passed by this quaint Thai restaurant in the Red Light District many times before I finally took the plunge. Klaas Compaen is named after a man who journed to India but ended up living happily in Thailand because he liked the women and the food.
Klaas Compaen claims to be the first Thai restaurant in Amsterdam, operating here some 30 years. The entry way leads you down some steps into a scent filled basement room. This relatively small restaurant which has just a half dozen tables and more seats at the bar is very cozy. Those sitting at the bar can watch the chef at work creating those Thai delights we know and love.
We had ordered our usual test for Thai restaurants consisting of spring rolls, Tom Yam soup, Pad Thai and red curry. These are the standard dishes served up at all Thai restaurants and reveal the food quality and consistency.
All the dishes were fresh and authentic, although I found the very thin noodles used for the Pad Thai to be lacking in flavor and ingredients. It was mostly noodles with few vegetables or chicken pieces to be found. This was the only drawback to what otherwise was a very tasty meal.
As we were the only patrons for most of our meal, the staff of three provided perfect service. When the place is packed, which I noticed is common on weekends, it may feel a bit claustrophobic or gezelig (cozy) depending upon your personality. Fortunately a bank of air conditioners should prevent the usual Dutch restaurant smoke from being a big problem in such a small room. Ask them to turn them on if you feel uncomfortable.
Info:
Klaas Compaen does not accept credit cards!
Hours: 5pm – 9:45pm
Address:
Raamgracht 9
Amsterdasm
Phone: 020-623-8708