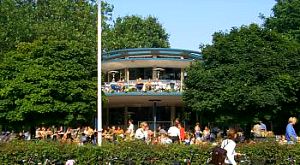 't Blauwe Theehuis, an attractive, round blue pavillion in the Vondelpark, looks like a spaceship that landed among the trees. In the summer it can be crowded with alien lifeforms (some on rollerblades!). It seems to be a popular rendezvous point for intergalactic travelers passing through. It is a ring-shaped concrete & steel cafe with vast terrace for drinks, light bites & summer BBQs.
Although the barman isn't versed in how to mix a pan-galactic gargle-blaster, they do serve up a good variety of earth beverages, including beer and wine, tea, coffee, sodas and some snacks to stave off hunger until you get to the next way station.
On a warm summer day, this is a popular place to beat the heat with a cold beer, sitting on the big downstairs patio or upstairs, around the saucer. If your solar cells need recharging, there are many seats in direct sunshine, or if you can't handle any more radiation, a shady spot can be found. It can get a bit crowded and noisy on such days as my last visit. And when the breeze dies, the smoke can get thick (and it's not just tobacco).
The place grooves on weekends with DJs upstairs, and what better venue to recharge depeleted cannabinoid levels, than the middle of the Vondelpark, among the tall trees with other interesting life forms around for entertainment. Any similarity to The Restaurant at The End of the Universe is purely coincindental…or is it?
Websurfers Beware! Their website seems to be stuck in a sort of time warp, since the most recent event shown is from April, 2000!