Cafe
Cafe and Nightclub in Lyon, France.
L'ACCESSOIRE Café-Théâtre – Lyon
26 rue de l'Annonciade
69001 Lyon
Website: https://www.accessoire-cafe-theatre.fr/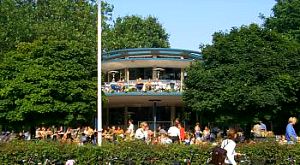 't Blauwe Theehuis, an attractive, round blue pavillion in the Vondelpark, looks like a spaceship that landed among the trees. In the summer it can be crowded with alien lifeforms (some on rollerblades!). It seems to be a popular rendezvous point for intergalactic travelers passing through. It is a ring-shaped concrete & steel cafe with vast terrace for drinks, light bites & summer BBQs.
Although the barman isn't versed in how to mix a pan-galactic gargle-blaster, they do serve up a good variety of earth beverages, including beer and wine, tea, coffee, sodas and some snacks to stave off hunger… Continue reading →
Formerly the Netherlands Film Academie, it was squatted on 14th november 1999 and ultimately legalized as a public space with 2 large performance/rehearsal spaces, cinema, cafe and gallery space with busy programmes of [sub]cultural activities and events.
de peper is a non-commercial, not-for-profit vegan and organic café project located in the building on the Overtoom.
Part of Vereniging Eerste Hulp Bij Kunst (EHBK), De Peper also serves as a meeting place for people working in, or visiting, the building. De Peper crew are always happy to provide information about the events that are going on.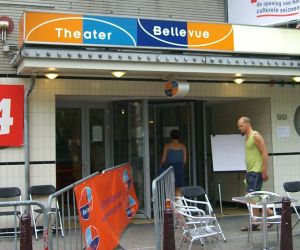 Arts venue & cafe with 3 spaces for theater, dance & comedy, plus short lunchtime performances.
Located near the Bep and Seymour Likely's – next stop on the club crawl down the Voorburgwal…