food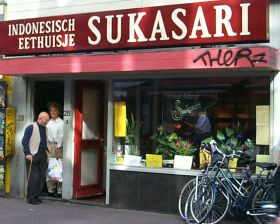 If you're looking for a nice, quiet place to hangout for a while right off the Dam Square that won't set you back a lot of guilders, visit Sukasari.
Located in the very first block heading east from the Dam Monument, Sukasari is on the right side of the street just past the Old Man Headshop. The place is nicely decorated, Indonesian style, and was an oasis for lunch on one of Amsterdam's hottest summer days. The spinning ceiling fans kept us quite cool as we relaxed over a lengthy business lunch. A steady supply of kleine biertjes chilled us… Continue reading →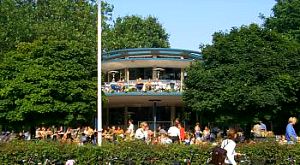 't Blauwe Theehuis, an attractive, round blue pavillion in the Vondelpark, looks like a spaceship that landed among the trees. In the summer it can be crowded with alien lifeforms (some on rollerblades!). It seems to be a popular rendezvous point for intergalactic travelers passing through. It is a ring-shaped concrete & steel cafe with vast terrace for drinks, light bites & summer BBQs.
Although the barman isn't versed in how to mix a pan-galactic gargle-blaster, they do serve up a good variety of earth beverages, including beer and wine, tea, coffee, sodas and some snacks to stave off hunger… Continue reading →
Comfy, cozy and on the Leidseplein. In the American Hotel. Hiply extravagant, but worth it. Music, drinks, food.
Cuisine
Italian food inside of Italy is different than Italian in America or western Europe. Italian food is based upon a few simple ingredients and Italians often have very discriminating tastes that may seem strange to Americans and other visitors. For instance, a sandwich stand might sell 4 different types of ham sandwiches that in each case contain ham, mayonnaise, and cheese. The only thing that may differ between the sandwiches is the type of ham or cheese used in them. Rustichella and panzerotti are two examples of sandwiches well-liked by Italians and tourists alike. Also, Italian sandwiches are…
Continue reading