13th-century church, now Calvinist, hosting religious & cultural activities including concerts.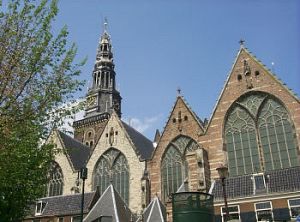 Originally a small wooden church on a bank of the Amstel River in the 1300's, it grew to be the stately Gothic structure it is today during the 14th century. Over the centuries it was a place for traders to meet and a refuge for the poor.
There are two organs: a transept organ (1658) and the well-known Vater-Müller organ (1724/1738), nowadays both are used for concerts.
The floor of the interior is paved with the gravestones of the rich, famous and royals from centuries past. It is an eerie feeling indeed to be walking around on them, especially when you recognize someone you've heard of!
Every year they offer the World Press Photo exhibition to the public, along with other exhibitions, theater and musical concerts from time to time. Be sure to check our always updated event calendar for listings of happenings when they are announced.