Red Light District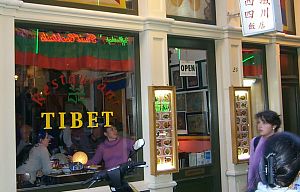 We discovered this relaxing refuge from the hectic pace of the Red Light District, after showing a friend around the area. We were pretty burned out as we'd been walking all over town for many hours, and our last hour in the Red Light Light district was spent dodging tourists and listening to pounding house music in coffeeshops.
The Tibet restaurant welcomed us and restored us with it's wonderfully exotic ambiance while the soothing Tibetan music put us in the proper calm mood to enjoy the tasty delights of this popular dining spot. The Tibetan artworks on the walls including… Continue reading →
The Waterhole, a rebel themed hangout down in the Red Light District, is a good venue to hear music close up and personal and dance if the spirit moves you. We got to check this place out when Cosmic Charlie, a Grateful Dead cover band played, and there was enough gray haired tie-dyed ol' hippies there to start a retirement commune. The band gave me some serious but extremely enjoyable flashbacks to the 60s with tunes like Uncle John's Band. Everyone seemed to dig both the band and the somewhat funky but smokey atmosphere of the place.
There was no… Continue reading →
13th-century church, now Calvinist, hosting religious & cultural activities including concerts.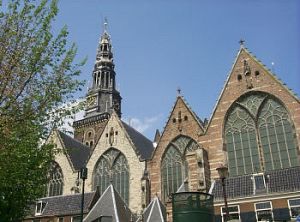 Originally a small wooden church on a bank of the Amstel River in the 1300's, it grew to be the stately Gothic structure it is today during the 14th century. Over the centuries it was a place for traders to meet and a refuge for the poor.
There are two organs: a transept organ (1658) and the well-known Vater-Müller organ (1724/1738), nowadays both are used for concerts.
The floor of the interior is paved with the gravestones of the rich, famous and royals from centuries past. It is an… Continue reading →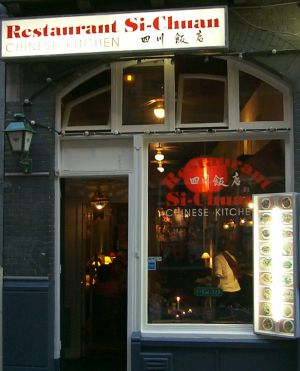 Also known as "Chinese Kitchen," this little place in the Red Light District is an interesting spot for a spicy meal.
The decor is that of a converted Italian restaurant, with a shrine by the front window including a picture of the Dalai Lama, and statues of Ho-Tei and Buddha for that authentic Asian feel. The insence wafting from the altar went quite well with the aromas of sizzling spices and food while we settled ourselves at the table inside the front window.
Take some time and look over the menu carefully, there's a lot to choose from. The menu… Continue reading →
Run by the Queen of The Zeedijk, Dusty (or is it Willem?) and his/her partner Johan. Now you get the picture.
Boisterous gay-friendly bar overlooking the canal with regular theme nights, DJs & drag acts.