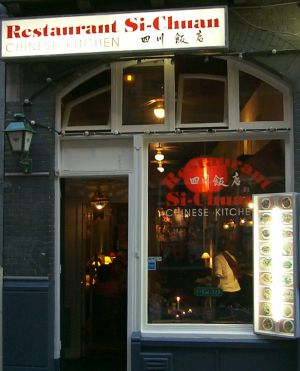 Also known as "Chinese Kitchen," this little place in the Red Light District is an interesting spot for a spicy meal.
The decor is that of a converted Italian restaurant, with a shrine by the front window including a picture of the Dalai Lama, and statues of Ho-Tei and Buddha for that authentic Asian feel. The insence wafting from the altar went quite well with the aromas of sizzling spices and food while we settled ourselves at the table inside the front window.
Take some time and look over the menu carefully, there's a lot to choose from. The menu will seem familiar to American tastes, with Kung-Pao and other Sichuan specialties to choose from. However, the flavors are anything but American, this is true Sichuan cooking in Amsterdam.
The waitress took our order, helping with suggestions and answering our questions clearly. I ordered the Sichuan soup, Sesame Prawns as an appetizer and Kung Pao Prawns for my main dish. My friend ordered the same soup, shared the Sesame prawns with me, and for a main plate choose a Sichuan chicken dish, which the waitress promised would be very spicy. I also ordered a large pot of hot tea to wash everything down.
The jasmine tea and soup arrived quickly, and my taste buds were soon reeling from the intensely flavoured and delightful Sichuan soup, which featured mushrooms, chili peppers, herbs and tofu in a great broth. The sesame prawns arrived soon thereafter, along with a spicy dipping sauce made with a base of soy, salty and wonderful. The main dishes arrived on platters as large portions, with a huge bowl of steaming jasmine rice and individual plates. My Kung Pao Prawns were fabulous, clean-tasting and fresh, cooked perfectly and the rest of the dish was classic kung-pao, with the peanuts and vegetables in a light brown sauce spiced with bits of red pepper. The sichuan chicken dish wasn't quite as good, but it was uniquely flavored and delicious in its own way. The pieces of chicken were cooked with the shreds of skin still attached, adding a certain greasiness to the dish, but the addition of allspice to the seasoning almost fooled me into thinking this was a dish made from duck…
Our meal was good, with efficient service in nice surroundings. The table we had in the front window proved to be a great place to watch the never-ending parade of humanity passing through the Red Light District. Our table was also cigarette-smoke free being by the open door, an added benefit indeed.
The bill for our great Sichuan Chinese meal was f72. I will visit again and have more soup, their menu has an extensive selection of hot pot meals as well.
Since ourt original review this restaurant has moved from the Zeedijk to the Warmoestraat, see the map below.