Indonesian Cuisine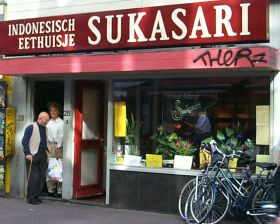 If you're looking for a nice, quiet place to hangout for a while right off the Dam Square that won't set you back a lot of guilders, visit Sukasari.
Located in the very first block heading east from the Dam Monument, Sukasari is on the right side of the street just past the Old Man Headshop. The place is nicely decorated, Indonesian style, and was an oasis for lunch on one of Amsterdam's hottest summer days. The spinning ceiling fans kept us quite cool as we relaxed over a lengthy business lunch. A steady supply of kleine biertjes chilled us… Continue reading →
The Aneka Rasa is an Indonesian restaurant on the Warmoesstraat in the heart of Amsterdam's Red Light District. But don't let that fact put you off your food, some of the best meals in Amsterdam are to be found in this area. Just two blocks from Centraal Station, or three from the Dam Square.
As there were two of us dining, we decided to order a rijstaffel "menu" and enjoyed it greatly for all it's uniqueness, especially the variety of sauces in each of the many dishes.
We started off with their spring rolls, unusually and delightfully prepared with lime…
Continue reading