restaurants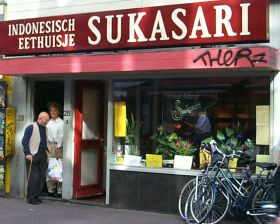 If you're looking for a nice, quiet place to hangout for a while right off the Dam Square that won't set you back a lot of guilders, visit Sukasari.
Located in the very first block heading east from the Dam Monument, Sukasari is on the right side of the street just past the Old Man Headshop. The place is nicely decorated, Indonesian style, and was an oasis for lunch on one of Amsterdam's hottest summer days. The spinning ceiling fans kept us quite cool as we relaxed over a lengthy business lunch. A steady supply of kleine biertjes chilled us… Continue reading →
This is the Hotel Arena's cafe and restaurant on the Oosterpark. They say "located in the Oosterpark, in a vibrant neighbourhood in Amsterdam Oost. The cafe-restaurant is divided into a laid-back lounge, a cosy bistro and a restaurant with table linens. The large terrace is practically in the Oosterpark, but is every bit as comfortable as it is inside. At Park cafe-restaurant the menu focuses on vegetables, with full flavours, bright colours and exiting preparations. We cook along with the seasons and use plenty of fresh herbs, that if at all possible go right from our own herb garden to your plate."
Authentic Lowcountry Cuisine Executive Chef Brad Jones credits the authenticity of 82 Queen's Lowcountry menu to home-grown ingredients. "We use a lot of local herbs and vegetables, when they're in season … like okra, tomatoes, sweet corn, peppers, and mushrooms to showcase our prime cuts of beef and fresh seafood. Our shrimp, crab, grouper, flounder, snapper and black fish are so fresh… they were probably swimming in local waters a day or two before being served at our tables.
Chef Christopher Wright greets the guests with a glass of wine, and offers superb gourmet cuisine for around 30 euros per person. The tiny eatery is convivial and packed with diners. A must in Paris.
Info:
Closed Saturdays for lunch, and on Sundays.
Address:
3 rue Sainte Beuve
Paris
Phone: 01-45-49-10-40
Authentic Lowcountry Cuisine. Executive Chef Brad Jones credits the authenticity of 82 Queen's Lowcountry menu to home-grown ingredients. "We use a lot of local herbs and vegetables, when they're in season … like okra, tomatoes, sweet corn, peppers, and mushrooms to showcase our prime cuts of beef and fresh seafood. Our shrimp, crab, grouper, flounder, snapper and black fish are so fresh… they were probably swimming in local waters a day or two before being served at our tables."
Address:
82 Queen Street, Charleston, South Carolina
Charleston 29401