Amsterdam Hotels
The ultra-hip Winston's on the Warmoesstraat is now even cooler.
With music nightly to feed your soul, this is one of Amsterdam's favorite places that is blessed with amazing style!
Music or fun every night of the week!
Funky rooms & hostel dorms in budget property.
Very popular with the young backpack set, this hostel has a good, central location. A bed in a dorm runs 30 guilders and includes breakfast! An excellent deal! There's a separate women's dormitory. Walk from Centraal Station or take tram 1,2,5,13 or 17.
This is the Hotel Arena's cafe and restaurant on the Oosterpark. They say "located in the Oosterpark, in a vibrant neighbourhood in Amsterdam Oost. The cafe-restaurant is divided into a laid-back lounge, a cosy bistro and a restaurant with table linens. The large terrace is practically in the Oosterpark, but is every bit as comfortable as it is inside. At Park cafe-restaurant the menu focuses on vegetables, with full flavours, bright colours and exiting preparations. We cook along with the seasons and use plenty of fresh herbs, that if at all possible go right from our own herb garden to your plate."
Former convent, now a hip hotel and nightclub. Happy DJ scene on weekends in the club, and special events occasionally.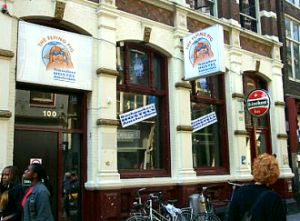 The famous Flying Pig now has three hostels located downtown, near the Vondelpark and their newest beach hostel at Noordwijk aan Zee.