Amsterdam
I've been to Amsterdam twice in the last 3 years. Tried many coffeeshops around the city. This my favorite coffeeshop by far. Not because of the quality weed, but because of the nice people working there. The weed was good also, but not the absolute best in the city. It has a laid-back atmosphere with good music and great hot chocolate. Free use of the bongs, which they will clean right before you use it. Backgammon and chess games available. More of an upscale interior with nice woodwork and brass finishes. Located at the edge of the Red light district… Continue reading →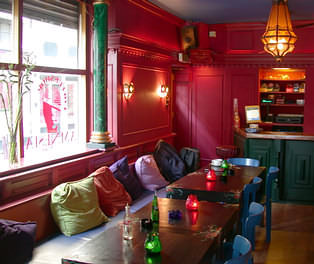 This is a very pleasant Coffeeshop on the Herengracht with outdoor seating. It's one of the few places in town that specializes in organically grown weed. I enjoyed the comfortable interior with nice cushions and pillows, hand painted tables by Zoe, and mellow music that set the mood.
Update: I visited the Amnesia again for one of their Vaporizer Parties. It was packed full of happy people toking up the clean vapors from two vaporizers kept going thanks to the Amnesia and the hard-working, knowledgeable folks from the Cannabis College.
We read about the tour in the Lonely Planet and it was really worth taking!
This tour was highly recommended in BOOM magazine. Randy is a pretty cool guy! This tour focused on the humorous and contemporary stories of the red light district. He kept us entertained by showing us where Quentin Tarantino wrote Pulp Fiction. Eminem and Mike Tyson's favorite coffeshop. We even saw the club with the darkroom floor that Jean Paul Gaultier passed out on (and woke up stuck to)!
We saw a lot of window prostitutes and learned about X-rated bookshops, live sex shows, magic mushrooms and smart shops. Warning: there was also some Amsterdam history on the tour.We had a… Continue reading →
Myself and a friend recently rented two single rooms in the 'hotel' Monopole, Amstel 60, Amsterdam, to the tune of €60 per night for four nights (€250 + city tax) on October 11th -14th.
My heart sank when we got a look at the first room; a small, dank place with twin cots, dirty marks on one wall, a tatty thin carpet, old fixtures and fittings and a unpleasant view of what appeared to be an industrial building with a grimy roof.
The second room three floors up a break- neck stairs into the attic, was similar to the first… Continue reading →