Amsterdam Super Hotel Deals!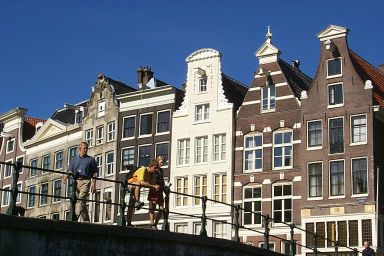 Amsterdam is famous for its canals, the Red Light District, its liberal attitude and trendy nightlife. Whether you visit for a few days or a few months you're sure to fall in love with this city, it's historic architecture and it's people.
This site is for those who wish to discover what makes Amsterdam unique. We believe Amsterdam is one of the coolest places on the planet and deserves more than a casual visit.
This site contains hundreds of photos and articles about Amsterdam, Holland and the Dutch people. We also have reviews of hundreds of popular Hotels, restaurants, coffeeshops and other retail establishments so you can find what you're looking for easily. We are constantly adding more Reviews, and revisiting those already listed to provide the latest info.
Our City Maps can help you find your way to the more interesting sites. Our Amsterdam Bookstore has the best alternative guidebooks for sale!
If you can't find what you're looking for, try our powerful Search Engine to locate it, or post your question on our Amsterdam Forum. So browse around our site and let us know what you think!
We love the Dutch for their open, party-loving culture, and this season's upcoming events will definitely make your Amsterdam visit twice as fun:

1.The Last Queen's Day (April 30) - The Queen's birthday is the most popular and colorful holiday in the Netherlands, and this year will be the last for the present Queen Beatrix, who is about to relinquish her crown.

Every year, millions of locals and tourists alike flock to the capital Amsterdam for the biggest street parties, performances, markets, and government perks.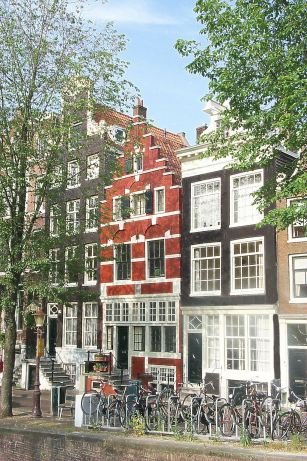 Amsterdam Canal Houses
Take advantage of this day to rent Amsterdam apartments when the city is tax-free and all businesses are unregulated.

Even children will enjoy at the Vondlepark designated for kids' activities like face-painting, music, rides, story-telling, and craft workshops.

Join the bright crowd who  make an effort to dress in the Royal color orange, dye their hair orange, paint their face orange, drink oranje bitter (alcohol made from orange), and even serve orange-flavored dishes.


2. The Royal Crowning and Wedding - The whole world will watch as Prince  Willem-Alexander becomes the nation's first king since 1890, marking the 200th anniversary of the foundation of the Kingdom of the Netherlands.

Witness rare musical performances fit for a king while waiting for the Royal entourage.

Better yet, greet the Royal couple at the Royal boat parade especially organized for the public.

Be amazed by more spectacular performances at the King's Night, a celebration of sports, music, art, and youth.



3. City-wide sale! - The Dutch have this tradition of trading their old goods and showcasing themed products on this day, so for the shopaholics it's also a tax-free , bargain day!

The generous Queen even joins this bargaining tradition like last time when she bought a second-hand lamp from the locals.

At the Vondlepark, children set up market stalls to trade their old toys and showcase their talents.

4.Bredeweg Festival -  The night before Queen's day, enjoy a sample of classical street opera, circus, and exhibitions to kickstart the bigger event.

Whatever your taste is, the Bredeweg Theater  will feature everything from Latin, jazz, and folk music to popular rockbands.

5. Gay Day - Queen's day is also gay and lesbians' day, especially at the Reguliersdwaarsstraat street party where gay-friendly bars are located. Expect a colorful parade of creative costumes and amusing performances from different cultures.

Amsterdam usually turns into one huge rock concert on Queen's day, and now with the addition of a King's day, one could only imagine how jam-packed the city will be. To avoid hassles, check out accommodations early at shortstay-apartment.com
Visit Amsterdam with this map. Double-click to zoom in, click and drag to move it around. Change from satellite view to road map to combination maps. This map is great for a walking tour of the red light district using your smart phone or tablet.
1 Jan New Year's Day Nieuwjaarsdag
6 April Good Friday Goede Vrijdag
8 April Easter Sunday Eerste Paasdag
9 April Easter Monday Tweede Paasdag
30 April Queen's Day Koninginnedag
5 May Liberation Day Bevrijdingsdag
17 May Ascension Day Hemelvaartsdag
27 May Pentecost Eerste Pinksterdag
28 May Whitmonday Tweede Pinksterdag
25 December Eerste Kerstdag
26 December Boxing Day Tweede Kerstdag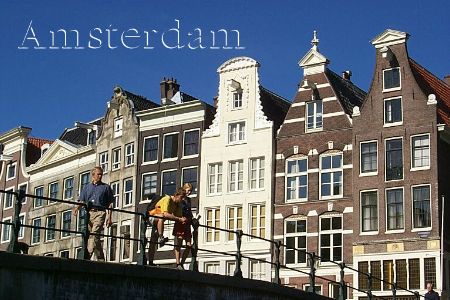 Amsterdam is easily one of the most people friendly cities in the world. You can walk just about everywhere, and most people do. The Feng Shui (Wind/Water - art of geomancy) of this city is perfect. Canals are everywhere, and the breezes through the town are almost constant. This creates a vibrancy as energy is constantly flowing through Amsterdam. The millions of tourists who visit notice this and return again and again. You too will be energized, enchanted and entranced by this magical place.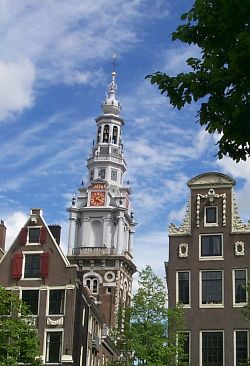 The Zuiderkerk (Southern Church), designed by the famous architect, Hendrick de Keyser, was finished in 1611, with the beautiful tower completed in 1614. It was the first Calvist church in Amsterdam. Major reconstruction was done during 1976-1979.
Nowadays the Zuiderkerk hosts the City of Amsterdam's planning and housing information center. Here you can find out about city projects including housing, urban renewal, transportation and the environment. You can read about the many municipal regulations including the "'bestemmingsplans". It's also a good place to get the lowdown on new housing being built for sale or rent in Amsterdam.
While escaping one of Amsterdam's sudden downpours I ducked into the City Hall building entrance by the Waterlooplein and discovered a dioramic wonder.
The main lobby is rather stark, except for a diorama stretching along one wall that details the water levels in Amsterdam and the city's underpinnings.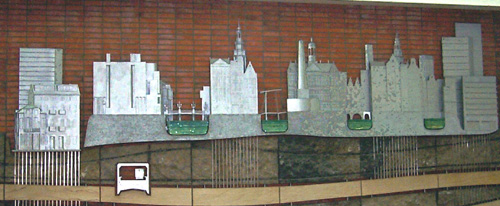 You can see in the diorama the columns sunk into the soft sand under the city's buildings, the Metro tubes with subways running, and the various levels of water in the city's canals.